This is part of an article by David Goldman R.D. It originally appeared in the Spring 2016 issue of Health Science magazine, the member magazine of the National Health Association.
Everyone needs to be able to sit down and stand up. Performing this movement, called "the squat," and performing it well, is essential to our independence. Excelling at the squat makes life easier and more enjoyable.
If we are unskilled at the squat, we may have trouble getting in and out of our bed or car, tying our shoes, or picking up things we've dropped. In addition, climbing stairs, playing sports, and standing up after a fall can feel prohibitively challenging and painful. Each of these limitations can ultimately lead to diminished independence.
So how do you do a squat? Let's break it down:
Begin with feet shoulder-width apart and parallel to each other. If your hips are tight, you may need to move your feet just outside shoulder width and/or turn your toes out.
Shift your weight over the arches of your feet and engage your midsection, as though you were bracing to take a light punch. Squeeze your glutes to "lock out" your hips. This is both the starting and finishing position.
Keeping your weight in the mid-foot, descend by reaching your hips back and allowing your knees to move forward. Your heels and toes should be in contact with the ground, and your torso will likely lean forward a bit, which is fine.
At a certain depth (it's different for everyone), your lower back will begin to round. Stop just before this point. Stand back up by squeezing the glutes and driving the hips forward as your knees extend. This will bring you back to step 1.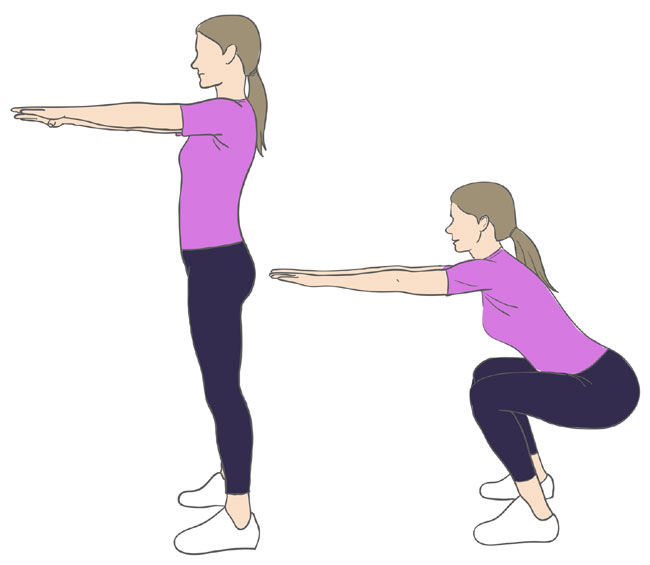 Performing certain basic movements are as essential to our musculoskeletal health and quality of life as eating certain basic foods are to the vitality of our entire body. Squats are one of the tried and true exercises that all bodies were built to perform—they are the very definition of functional.
But, what if a full squat is too difficult for Grandma?
The strategy I like is the "Whole" approach. It requires the whole body to move as one to accomplish small portions of the end-goal movement. I would teach my grandmother to squat, with impeccable form, to a shallow depth, perhaps just an inch or two down from standing. I might standardize her range of motion by instructing her to lower her bottom onto a stool or other surface of appropriate height so that her buttocks touch the surface on every repetition. As she practices and becomes increasingly adept, I would deepen her squat while ensuring that her movement retains integrity. To achieve more depth, I might stack several phone books on a chair, removing them one at a time as she gets stronger.
Application
Let's look at some specific benefits and recommendations for executing squats by children/adolescents, adults, and older adults.
Children and adolescents:
Benefits:
Preserve range of motion (ROM). ROM is much easier to maintain than to build back once lost.
Increase bone density and prevents osteoporosis. Take advantage of the fact that we build the most bone before age 30.
Recommendations:
Perform 1–2 sets of 6–15 repetitions. Rest 1–3 minutes between sets.
Resistance can be increased by 5–10% by holding free weights or simply wearing a backpack once 15 repetitions can be easily performed.
Complete on 2–3 nonconsecutive days of the week.
Healthy adults:
Benefits:
Prevent and improve depression and anxiety, increase energy levels, and decrease fatigue.
Improve body composition.
Recommendations:
Perform 2–4 sets (as few as 1 for novices) of 8–12 repetitions. Rest 2–3 minutes between sets.
Resistance can be increased by 5–10% once 12 repetitions can be easily performed.
Complete on 2–3 nonconsecutive days of the week.
Older adults (65+ years old):
Benefits:
Improve balance to reduce risk of falling.
Prevent, slow, or even reverse the loss of bone in those with osteoporosis.
Recommendations:
If necessary, hold a rail or supportive structure for balance when learning to squat. Aim to reduce the use of support until none is needed.
Perform 1–3 sets of 10–15 repetitions. Rest 2–3 minutes between sets.
Resistance can be increased by 5–10% once 15 repetitions can be easily performed.
Complete 2–3 nonconsecutive days of the week.
Squats offer a highly effective means to increase fitness and facilitate activities of daily living with ease and without pain. The squat and its variations can be found in movements as general as sitting into and standing up from a chair, and as specific as a jump shot in basketball.
Squats require no equipment, strengthen the muscles of the core and lower body, and when done correctly, build bones, preserve joint range of motion, and improve our state of mind. Squats are undoubtedly an all-star exercise that should be incorporated into each of our lives.
Categories: Article, Exercise, Prevention